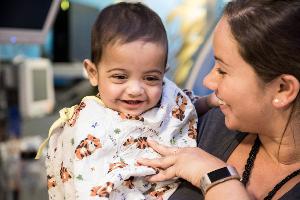 On June 13 I will begin a 4,800 mile bike ride from Seattle, WA to Key West, FL. I hiked the Appalachian Trail in 2017 and across Spain and Portugal in 2019 raising a total of $20,000 for Boston Children's
I will be fundraising once again to help the Down Synrome Program at Boston Children's continue its amazing work for kids. This program is one of the oldest and largest of its kind, offering multidisciplinary health care for people with Down syndrome from birth until they reach age 22. It is more than a clinic, however. They also provide resources, advocacy, and support to all families.
Mae, is the daughter of friends of ours and was the inspiration for my involvement with this charity. Since then, I've become much more aware of the prevalence of Down Syndrome. Virtually everyone I know has had a family member or friend touched by DS.
Mae and her family have established Mae's Market at Boston Children's Hospital Down Syndrome Program. Your donations will play a role in the development of this resource center where families can get developmental, therapeutic and educational tools for their children free of charge. As so eloquently put by Mae's brother, Drew, Mae's Market is here "to make the world a more special place".
You can follow my blog at www.at-pete.com to track my progress.
Thanks so much for you support of Mae's Market and my ride. I hope you'll follow along.
Ride On
Just Pete
View More