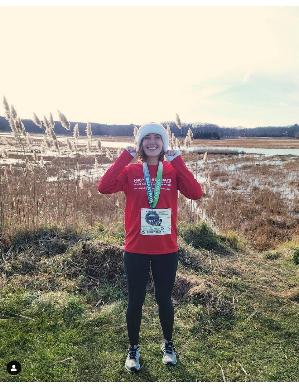 My journey at Boston Children's Hospital started while I was in my undergraduate at Denison University. As a student and athlete there, I heard about Maci Whisner, a child in the community born with a rare genetic condition called Mowat-Wilson Syndrome along with several serious cardiac issues including HLHS (half of a heart). Despite her family being told the condition was inoperable, a Boston Children's Hospital surgeon offered a surgery which provided the family with hope and Maci the chance to fight. Inspired by her journey and the care she received at Boston Children's Hospital, I pursued a position in research there after graduation. Hoping to further help kids like Maci I applied to Medical School this past year and have since been accepted. After six years with many joys and tough times, Maci heart wrenchingly passed this past September. Inspired by her determination and journey, this April I am running the Boston Marathon of 2022 in her memory. In her honor I've joined the Miles for Miracles team because I believe so strongly in all the amazing things Boston Children's Hospital did for Maci and continues to do for kids:
The hospital's patient care programs are unusually sensitive to what sick and injured children and their families really need.
Researchers regularly make amazing discoveries that change children's lives.
Boston Children's welcomes kids whose families can't afford health care--more than any other hospital in Massachusetts.
Community programs makes a point of reaching out to help low-income and at-risk kids.
And the hospital doesn't just stop there. Boston Children's really understands the importance of training the next generation of top pediatricians and nurses, so they can continue to provide the best, most innovative care possible to kids.
Maci was a gift to her family, the Newark community, and Boston Children's Hospital. Please consider donating as your gift helps to fund the medical care of children just like Maci from all around the world.
View More