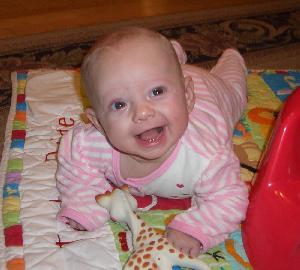 Donations noted on this page only account for donations made directly to BCH.
At 5 months old, Taylor Paige Cosmas went down for a nap and never woke up. The grief from losing their first born daughter fueled the motivation for Mark and Katie Cosmas to change their purpose and created Team Taylor to raise money for SIDS research so that no more families would have to go through the pain they endured. Katie and Mark dealt with their loss and endeavored to do something to remember Taylor by and to donate to SIDS in her name. They literally "run" towards curing the disease that took their daughter's life. Team Taylor was created in 2011 as a way to remember Taylor Paige Cosmas and raise funds for SIDS prevention and awareness. Thousands have run in races and over $1M has been raised for this important cause. This heartbreaking story fuels the motivation to make sure all babies see their first birthday.
Team Taylor's Family Fun Run
The Team Taylor Family Fun Run is a 3-mile run through the beautiful streets of Arcadia in Phoenix, Arizona. In 2022, the event will be the 10th annual Team Taylor and will take place on Sunday, April 10th. The Fun Run is open to all ages. Neighbors have run, walked, biked, scootered, and enjoyed this event in many different ways. The event is more than a run; it is a place for all people to meet and show their support, not only to the Cosmas family but also to other families that have suffered from this terrible tragedy called SIDS.
The History
In 2011 and 2012, Team Taylor ran at the 7th and 8th annual Pat's Run, and we were the largest team at Pat's Run, raising just under $31,000.00. In 2014, Katie and Mark formed a 501(c)(3) Foundation, Three Butterflies, to distribute the monies raised to the best and most active SIDS researchers in the country. In 2020 and 2021, Team Taylor AZ reached a special milestone of fundraising over $1 million to date. This was especially meaningful as 2021 was the 10-year anniversary of the nonprofit and the family fun run had to be postponed due to the pandemic. The goal for the for the 2022 Family Fun Run is to have over 1,000 runners and donate over $250,000 to SIDS Research in Taylor's name.
Our Future
2022 will be the last planned Team Taylor annual family fun run for the foreseeable future. The Cosmas family will forever advocate to end SIDS and continue to support research through detection and prevention phases and help provide guidance to families whose babies were taken too soon.
On behalf of Katie, Mark, Cade, Addy and our sweet angel, Taylor, thank you. Thank you to every donor, sponsor, walker, runner and advocate. Your contributions have helped fund crucial research studies, spread awareness for safe sleep, donate countless cribs and ultimately helped more babies reach their first birthday.
You've helped our family and so many others to continue our journey to healing. May our angel babies rest in peace.
View More