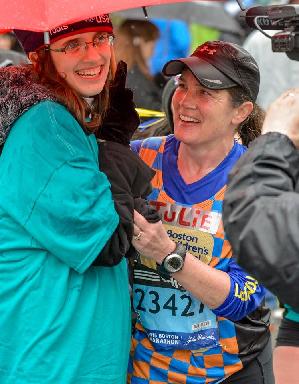 Fourteen years running the Boston Marathon with Jillian as my inspiration!
Many of you know that, since 2005, I have run the Boston Marathon every year on behalf of Boston Children's Hospital. I have returned each year in large part due to my friendship with a very special BCH patient, Jillian. We have known each other since she was 4 and she is truly my inspiration. She has been a patient at BCH since she was 6 months old when she was diagnosed with a rare genetic syndrome and has seen just about every specialist at BCH. While she has had more than a few tough years medically, and was recently back at Children's in late November 2018 for more tests, the last few years she has wanted to give back to the Hospital that has helped her thrive and she comes out for many of our team training runs on Saturday mornings to help out at our water stops. Jillian's positive outlook on life is infectious and she provides great support and encouragement to all of us runners! Jillian is so special to our family that this year, my daughter Kathleen is running the Boston Marathon for BCH and Jillian too!
I'm also running in memory of Lacey Warner. Lacey was born with a very rare heart condition called Truncus Arteriosus. She had open heart surgery when she was 2 weeks old and the doctors told her parents there was nothing more they could do to help her. Her parents turned to Boston Children's Hospital. A second surgery at BCH went well and Lacey was able to go home for the first time 1 day before her 1st birthday. Lacey underwent 2 more heart surgeries at BCH, 1 sinus surgery as well as many other procedures. The doctors told her parents that they had never seen a case like Lacey's and were thrilled at how well she was doing. Sixteen years later, in 2013, the doctors discovered there was a valve that was not functioning properly and surgery was scheduled, however Lacey went into full heart failure 10 days before her scheduled surgery in Boston. Lacey was Med Flighted to Boston and although the surgery went well, she did not recover as her little heart had been through so much and just could not adapt to the new way of working. I am honored to be running in memory of Lacey Warner again this year.
I appreciate all the support that I have received in the past, and I hope you know how much it helps to keep me going on both training runs as well as on Marathon Day. If you would like to support me in this effort, please consider making a donation to Boston Children's Hospital.
Until every child is well
Support me, and support the hospital! Please make a gift today.
View More