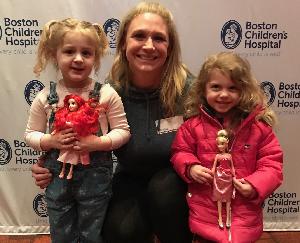 I am THRILLED to be a part of the Boston Children's Hospital Miles for Miracles Team once again and excited to run the NYC Marathon in 2019! For those who are counting, this will be my THIRD marathon this year! I'm proud to be running not only in honor of my daughter Natalie, but Elodie as well--another incredible little lady who just so happens to be the daughter of my Miles for Miracles teammate, Jeremy.
Natalie and Elodie were born within a couple months of each other and even had overlapping hospital stays in August of 2015, although we didn't know it at the time. Although they were there for very different reasons, Boston Children's Hospital is the reason we are so fortunate to have these two little spitfires in our lives, and the reason I will always do everything in my power to raise money for this amazing place.
Natalie's story:
Following a completely healthy pregnancy, Natalie was born in June of 2015. Within 24 hours it became clear that something was not right; Natalie's blood would not clot where they had done her heel stick and she was severely jaundiced. We were sent into Boston. Dozens of tests were run and we were informed on day 4 of her life that Natalie's liver was failing. While they tried numerous treatments to get the liver to "regenerate" itself (yes, livers can do that), they prepped us for the fact that she was likely going to need a liver transplant, so my husband Jeff went through testing to donate a portion of his liver to her. Although receiving a full liver is preferable to a partial liver, we didn't have time to wait for a deceased donor. On day 6 we were told she was in complete liver failure. On day 8 she was placed on the transplant list. In the meantime, Jeff was determined a match and surgery was scheduled for Day 12, but each day we had to wait brought the risk that Natalie could have a brain bleed or some other complication that would take her from us.
While we waited, we spent our days in the hospital with Natalie and met with various members of the transplant team so they could prepare us for what was to come. Day 9 was Father's Day. Up until this point we had only been able to hold Natalie 3 or 4 times.We spent the day sitting with her in our arms, not knowing if we would ever see another holiday with her. On Day 10, after meeting with the Transplant Team pharmacist to go over the dozens of medications she would need after her transplant, we walked out and were told her surgeon wanted to meet with us...there was a donor! She was having her transplant that night!
I will never forget walking Natalie to surgery; as she was being wheeled in her isolette, her anesthesiologist put his hand on my arm, looked me in the eye and told me "Tonight, she is my daughter." Just typing those words still makes me get teary. This was the kindest thing someone could have said to me in this horrible, scary time.
Natalie's surgery was completed by brilliant surgeons and was a success. We spent the next month in the hospital with her hoping that there would be no signs of rejection, waiting for her incision to be closed up (this required two additional surgeries because the liver was too big for her tiny body and they needed to stretch her abdominal cavity and wait for her to grow a little to safely close). There were nurses and clinical assistants who genuinely cared about Natalie and became our friends. Everyone at the hospital did everything in their power to make sure not only that Natalie received the best possible care, but looked after her parents as well.
To date, Natalie is Boston Children's youngest successfully transplanted liver recipient at 10 days old. The cause of her liver failure could never be determined, so we were told it was likely just a "genetic fluke." She will likely be on an immune suppressant the rest of her life to prevent rejection of the liver, and is regularly monitored by Boston Children's, so the doctors, nurses, and staff at Children's will always be a huge part of our lives. But short of a very beautiful scar on her belly, you would never know by looking at her what this warrior has been through. She is a vibrant, thriving whip-smart preschooler with sass for days and a shoe obesssion. And all because of BCH and a generous organ donor.
Elodie's Story as told by her Dad, Jeremy:
"In May of 2015 our journey with Elodie and with Boston Children's Hospital began. Halfway through the pregnancy an ultrasound revealed what could have been a problem with her heart. We were referred to BCH to confirm. Walking in there that day was nerve wracking to say the least. Their confirmation that Elodie did in fact have a congenital heart defect (Tetralogy of Fallot) that would require open heart surgery in order to survive floored us but only for a short time. From the minute the confirmation was shared with us we had a team...literally sitting in the room with us. Doctors, nurses and even someone taking notes so we could just listen and absorb. When we left a few hours later we knew there was a long and very scary road ahead but we were calm. It was that day, walking out of the hospital that I knew if all went well we would have a lot to be grateful for and I wondered even then how it would be possible to say thank you.
Elodie's development was closely monitored and a research study we took part in revealed another problem (Duodenal Atresia) which was a blockage of her small intestine. Another meeting, another team, another surgery she would need shortly after birth in order to thrive and survive. Our cardiology team was with us every step and meeting with the gastric surgery team and again we knew we were in the best possible place.
Elodie was born August 22 strong enough to wait a few months for her heart surgery. At six days old she had her first life saving surgery to repair her intestines which would allow her to begin regular feeding and grow strong enough to make it through the open heart surgery to repair the Tetralogy of Fallot /large VSD which she would have at 3 months old.
Testing during her first week revealed a spinal cord issue that would require surgical repair within her first year and we were made aware that a follow up gastric surgery would also be required before she turned one. For anyone keeping score, that's four surgeries, two more than we had anticipated before she was born.
Clearly it was a lot to process and it was a tough and scary road at times but there wasn't one second in that time where we ever doubted our doctors or wondered if we were putting our trust in the right people or hospital. How lucky are we to live 25 minutes from the greatest Children's hospital in the world!
Some of the most amazing doctors, nurses and support staff in the world were, and still are part of our support team to this day. Thanks to them we have an amazingly smart, caring and beautiful three year old who brings joy to us everyday as she enjoys life and crushes her milestones."
Although our daughters had very different needs, you can see the common thread between both their stories: the extraordinary care they have received from Boston Children's. I continue to run for the Miles for Miracles team because I believe so strongly in all the amazing things Boston Children's Hospital does for kids:
The hospital's patient care programs are unusually sensitive to what sick and injured children and their families really need.
Researchers regularly make amazing discoveries that change children's lives.
Boston Children's welcomes kids whose families can't afford health care--more than any other hospital in Massachusetts.
Community programs makes a point of reaching out to help low-income and at-risk kids.
And the hospital doesn't just stop there. Boston Children's really understands the importance of training the next generation of top pediatricians and nurses, so they can continue to provide the best, most innovative care possible to kids. This top-notch care is what draws people from all over the world and ultimately makes a difference in the lives of these amazing kids.
Support me, and support the hospital! Please make a gift today.
View More