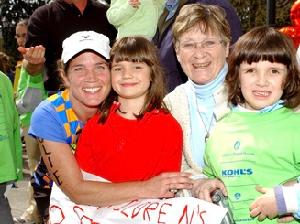 When I was a kid I used to think my mother was crazy... 26.2 miles?! But look who's joining her!! After all these years of watching her, the thought of running Boston with the Miles for Miracles team became more and more of a dream of mine.
This year, the dream is coming true!
Boston Children's Hospital has been a major part of my family's life. Growing up supporting my mom running for the Miles for Miracles team I witnessed all of the amazing memories, work, progress, and love that BCH has created. I have always been a proud supporter of BCH, and now am honored to be a part of the 2019 Miles for Miracles team this year.
Jillian Cotell has been my mother's patient partner for 14 years. Throughout this time both Jillian and her family have become a part of our family, something that never could have happened without BCH. I want to dedicate my first marathon to her inspiring attitude, warm heart, and her family's constant support of my mom, my family, and me.
Please consider supporting me and supporting Boston Children's in my first ever marathon!!
View More