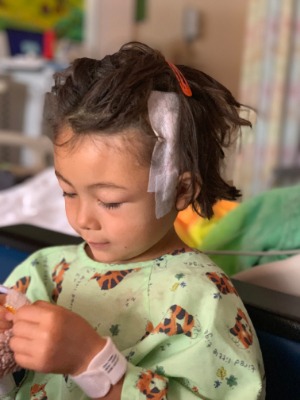 May 16, 2019 our 4 year old, Kalea Rose, was diagnosed with Moyamoya Disease (a rare brain disease). Consistant with our fears, at 8am, the neurologist called with the news that our "intuitions were correct". We took a deep breath, and trusted Dr. Smith's knowledge, expertise, experience, and abilities to lead us through Kalea's treatment. We've never looked back or doubted our choice of doctor or hospital. Kalea's cousin was diagnosed 12 years ago with the same disease (he is currently being treated by Dr. Smith), and his fund raising inspired our event. Without his fund raising, genetic testing advances would not have been made, as well as several lives saved from procedures perfected from his funding. We are currently benefitting from his funding, and want to follow in his steps. There was no questioning IF we would hold an event. The question was WHAT and WHEN.
October 20 from 2-6 at Codman Community Farm in Lincoln, we're hosting a family fun day to raise money to further research for this rare disease. There will be a cornhole tournament, live music (Jimmy's Down), food cooked by the local police, beer provided by True North Ale Company, as well as plenty for the kids to do! We're asking kids to consider donating a NEW unopened toy to be given to the 9th floor playroom at Boston Children's Hospital as their "ticket" into the kids area. After surgery, this playroom was a safe and fun place for Kalea to recover and feel more at home. Her most favorite thing to do was puzzles, and they're in need of 40/60/100 piece new puzzles, craft supplies, and preschool/early school age toys.
We hope you can come and support Boston Children's Hospital with us!
*For any questions regarding the event, please email Brianna Doo directly. (briedoo@gmail.com)
View More