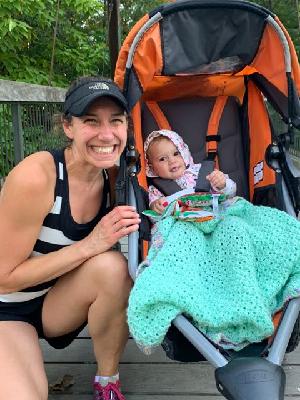 I was 13 weeks pregnant when we found out that our baby had a birth defect called an omphalocele, a rare and serious defect where a large hernia in the baby's belly results in some abdominal organs developing outside the body. It would require major surgery to repair. After trying to learn everything we could about this condition, we reached out to Boston Children's Hospital (BCH) to get a second opinion.
Our first visit to BCH was memorable and impressive. From the intake nurse, ultrasound technician, to the social worker, it was clear that the hospital not only provided amazing care to their young patients, but also wanted the parents to be as comfortable as possible. The highlight was meeting the baby's surgeon, Dr. Buchmiller. She sat down with us to discuss omphaloceles, the specifics of our baby's case, what to expect during the delivery, different treatment options, and best/worst case scenarios. She explained there were just some things we wouldn't know until after the baby was born. It was compassion, honesty, and experience we hadn't heard before that meeting. For the first time, we had a handle on what was going on. Switching the baby's care to BCH and to Dr. Buchmiller was an easy decision.
Ava Rae was born on 11/6/2018, via planned C-section at Brigham and Women's Hospital. Less than an hour after she was born, she was transferred to the BCH NICU. The NICU team was outstanding. At times there was a lot going on, but each doctor that came to Ava's bedside took their time to discuss everything, patiently answering our questions and addressing our concerns. Our days were long but we developed a bond with her nurses who provided such amazing care. Leaving Ava at the hospital every night was difficult, but knowing that such a talented team was caring for her made it easier.
Ava's omphalocele was repaired over a two part surgery when she was 3 and 6 days old. We were not expecting the closure to occur until Ava was older but Dr. Buchmiller made the decision to close it based on Ava's strong breathing and the size of the omphalocele. Our surgeon was incredible, discussing Ava's case frequently during this time. Being an involved surgery over two separate days, Dr. Buchmiller's compassion, support, and confidence gave us trust in her and her team, making this time so much easier for us.
Thirty one days after Ava was born, we were finally able to go home. We knew that the worst was behind us with her omphalocele closed and thought our time at BCH was coming to an end. Unfortunately, Ava had another plan and slowly she stopped eating. We started to work closely with GI, nutrition and speech. Her feeding continues to be a challenge for us, but we are making strides each day.
In total, Ava has spent 37 nights at BCH. Since being discharged, she's had 55 appointments with various specialists and teams before turning one. Four surgeries, many X-rays, echocardiograms, ultrasounds, CT scans, an MRI, and many feeding sessions have been our life this past year all at BCH. Every doctor/specialist we have seen has spent an incredible amount of time with us as well as provided world-class care for Ava. BCH has been a second home to our family and a place where we will be forever grateful.
This will be my first Boston Marathon since 2014 and my first since Ava was born. My return to marathon running seemed fitting for me to be the Boston Marathon and to run for this important organization. I am running to support BCH not only because of the exceptional care that is provided, but also for the tremendous support parents can receive during the most challenging times.
View More