Join us in-person for Champions for Children!
Date: Tuesday, November 29, 2022
Location: The Omni Boston Hotel at the Seaport
Champions for Children's is an evening like no other! For one night, ALL of Boston's pro sports teams—the Boston Bruins, Boston Celtics, Boston Red Sox, New England Patriots and New England Revolution—rally together with Boston's business leaders to raise funds that fuel kids' fight against devastating disease at Boston Children's Hospital.
How your support helps kids
►
You give lifesaving answers to families with nowhere else to turn. Funds raised through Champions for Children's go directly to helping families through Boston Children's Every Child Fund—advancing care, research and crucial services—at the one hospital that's cured more childhood diseases than any other.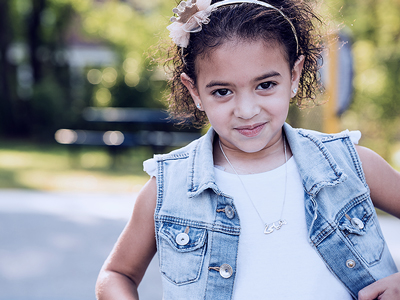 After being misdiagnosed nine times, Laila traveled 5,000 miles to Boston Children's Hospital. Here, doctors diagnosed her with a disease so rare only 100 people in the entire world have it. Today, with expert care, Laila is thriving.
Thank you to our sponsors who help make Champions for Children's a success. Sponsorship opportunities begin at $12,500. Learn more.
Title Sponsor

Since its start in 1997, Champions for Children's has raised more than $71 million for kids from across the globe. We're grateful for the dedication of the committee members who work to make this event a success!
Committee
Steve Barnes
Shaun Benderson, Benderson Development
Samuel T. Byrne, CrossHarbor Capital Partners
Jay Calnan, J. Calnan & Associates, Inc.
Bob Eddy, BJ's Wholesale Club
Ian Frenette, Heritage Sports Ventures
Keith Gelb, Rockpoint Group, LLC
Tom Gilbane, Rockpoint Group, LLC
Bob Greene, G. Greene Construction Co., Inc.
Robert E. Griffin, Jr., Newmark (Founding Chair)
Marci Griffith Loeber, Griffith Properties, LLC
Kim Jacobs
Bill Kane, BioMed Realty
Douglass Karp, New England Development
Steve Kelley, Fenway Sports Management
Bryan Koop, Boston Properties, Inc.
Larry LaFreniere, Electric Supply Center
Eric Limont, New England Technology, Inc.
Edward C. Maher, Jr., Newmark
Brian McDonough, Edge Performance Systems
Kate McKee, The McKee Group, Merrill Lynch
Dana McNally, Optum
Kristin Mugford, Harvard Business School
Frank Nelson, Newmark
Sean O'Flaherty
Paula Quan, Boston Children's Hospital
Spencer Raymond, Rockpoint Group, LLC
Laura Rehnert
Pete Trovato, Copley Equity Partners
Steven Smith, UBS
Garrett Solomon, Henley Investments
Bob Sullivan, Boston Children's Hospital
Joseph Zink, Atlantic Management

Honorary Committee
Doug Berthiaume
Steve Corkin
Joel Cutler, General Catalyst Partners, LLC
Bob Davis, Highland Capital Partners
Paul Edgerley
John Fish, Suffolk Construction Co.
Corey Griffin
Rob Hale, Jr., Granite Telecommunications, Inc.
Stephen R. Karp, New England Development
Jonathan Kraft, The Kraft Group
David Lucchino, Frequency Therapeutics
Larry Raffone, Financial Engines
Steven B. Samuels, Samuels & Associates

Watch our Champions for Children's Broadcast
►
Champions for Children's broadcast to its largest audience yet. Supporters from across New England tuned in during our TV broadcast. WBZ-TV personalities, Lisa Hughes, David Wade and Steve Burton, hosted the program and helped us honor amazing patients.
And friends like you raised over $3.9 million so children and families can find lifesaving answers at Boston Children's.
Watch the Champions for Children's broadcast here.
Special thanks to our media partner.