Miriam's fund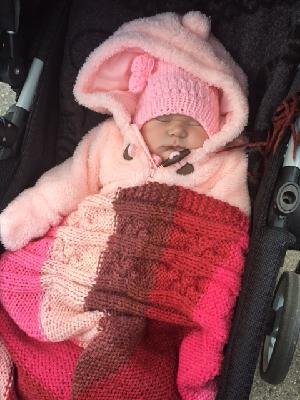 This page is set up in the memory of our newborn daughter, Miriam, who tragically passed away from Leigh's disease, a type of mytochondrial disease.

Mitochondria produce more than 90 percent of the body's energy. When these tiny parts of the cell can't do their job, the body doesn't get the energy it needs, resulting in a wide range of debilitating and sometimes fatal symptoms. Every 30 minutes, a child is born who will develop a mitochondrial disease by age 10. Each year, 1,000 to 4,000 children in the United States are born with a mitochondrial disease. While exact numbers of children and adults suffering from mitochondrial disease are hard to determine, we now know the disease is approaching the frequency of childhood cancers. (source: umdf.org)

Mytochondrial diseases do not show up as any abnormalities through ultrasound or in any prenatal testing. Therefore, parents are celebrating their beautiful and healthy baby, only to discover soon that their baby is fatally ill. Miriam's disease was discovered when she was 3 weeks old, following a perfect pregnancy and birth. During her short life, Miriam was loved so much by her parents, brothers, cousins, grandparents, extended family and friends. Unfortunately, her life was cut too short. She will never get to play with her brothers, go to school, or enjoy any of the beautiful toys and outfits she got at her birth.

All the money collected through this fundraiser will go towards Dr. Agrawal's laboratory in Boston Children's Hospital. The laboratory is focused on rapidly diagnosing babies born with rare and often undiagnosed conditions so that appropriate decisions can be made and appropriate therapies can be used. Dr. Agrawal uses various technologies such as exome sequencing, genome sequencing and RNA-sequencing to achieve those goals. His basic research is focused on determining the function of genes that are mutated in such patients so that novel drugs can be developed or repurposed to treat them.




We hope that by setting up this fund, one day, there will be treatments available and babies like Miriam will be able to live and families like ours will be spared the pain of losing their child.
View More
Fundraising Honor Roll
Alex and Yuliya Magid
$125
Chana and Josh Kutin
$125
Dina and Alex Slovodkin
$50
Emily & George Nitzburg
$125
In memory of baby Miriam so other kids like her had a chance at living
$125
Irina Shpigelman and Mike Stolyarov
$60
John Hancock Matching Gift
Judy and Marvin Packer
$60
Maimonides School 4th grade
$72
Natan and Mila Ustayev
$60
Olga and George Tatar
$60
Philipp Tsipman and Corinne Low
$300
Polina Godovich and Yakov Shpigelman
$125
Ruth and humi Vishniavsky
Sophia and Ross Zilber
$1,000
Stephanie and Rabbi Benjamin Samuels
$18
svetlana Reznichenko
$100
The Polsgrove Family
$250
The Stambler's family
$180
Yakir and Cheryl Levin
$180
Yehoshua & Chaya Bedrick
$118
Yulia and Alex Shpilman
$125