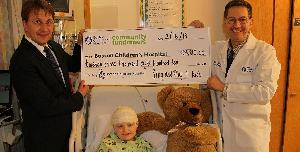 Sing & Play 4 Kids Challenge benefiting Boston Children's Hospital ESES Research
TO DONATE NOW: Choose a team from the list on the right side of this page and click on their name to find the GIVE NOW button.
Our Story:
Meet our son, Joshua! He is 7 years old and diagnosed with CSWS Epilepsy, commonly referred to as Electrical Status Epilepticus During Sleep (ESES).
ESES is a rare neurological condition which causes subclinical (not visible) seizure activity almost continuously during sleep. Children with ESES often lose the ability to speak and understand language; developmental delays, problems with motor skills, learning, memory and autism-like symptoms can occur. Some children never have a clinical (visible) seizure. Consequently, this epilepsy can easily be overlooked and remain undiagnosed for years; resulting in potentially irreversible damage to the child's development; an overnight sleep EEG may be required to detect the presence of ESES. When only language is lost this conditon may be referred to as Landau Kleffner Syndrome (LKS).
As Joshua's parents, we are truly inspired by the great work of the Epilepsy Center at Boston Children's Hospital (BCH). To show our appreciation for the excellent care our son is receiving from Dr. Phillip Pearl, and for the outstanding research efforts of Dr. Tobias Loddenkemper, we will be hosting a fundraiser to benefit Boston Children's Hospital's to support their research efforts into epilepsies associated with (ESES).
Our fundraiser is entitled "Sing & Play 4 Kids Challenge benefiting Boston Children's Hospital" Our vision is to inspire individuals in our communities to join our team or create a team of their own, usinging their voices to sing or their skills to play their favorite instrument, perform a safe fun activity, or simply send a cheerful message to the kids wishing them well. And, if you are able, makie an online donation to BCH for ESES research and challenge a few friends to do the same.
Please support our fundraiser and Boston Children's Hospital and help their doctors make amazing discoveries that will change these childrens' lives. Please donate and/ or take the Sing & Play 4 Kids Challenge to give our kids with ESES a voice. Thank You!
How can you help?
· Take the Sing & Play 4 Kids Challenge (more information below!)
· Support ESES research by donating to our team or to an individual team member: (To choose a individual team, click on their name from the list on the right side of the Team Page)
If you want to fundraise for Boston Children's Hospital and create your own team where your friends can donate to your personal page, click Join Our Team and follow the steps to create your account;
Sing & Play 4 Kids Challenge – How to play:
1. Join our team & receive your own fundraising page.
2. Because patients with ESES typically lose the ability to speak, understand language, and even sounds such as music, we're asking that you take a video (or picture) with a brief message of cheer for the kids living with ESES;
Example: To the kids living with ESES, we think you're awesome and want to wish you well! Here is a very special song, dance, message etc. for you! From your friends in the Netherlands!
3. To help spread the word, post your message or picture on any social media platform (YouTube, Facebook, Twitter, Instagram, etc.) – include the link to this fundraising page or your team and use the hashtag #ESESResearch; AND
4. Lastly, challenge a friend, rival, or family member to take the challenge! You can even challenge a group e.g. "All College kids at ____" to create a little friendly competition."
5. We would love to see your messages! To share with us please post the link to your photo/video message on our Facebook Page: Sing & Play 4 Kids benefitting Boston Children's Hospital (Ensure your privacy settings are set to Public) at https://www.facebook.com/singandplay4kids/ .

Donations by check can be mailed to:
Boston Children's Hospital Trust
Community Fundraisers
Attn: Jessica Brandi
For: Sing & Play 4 Kids/ESES Research Fund
401 Park Drive, Suite 602
Boston, MA 02215
Note: Make sure to write on your check Sing & Play 4 Kids/ ESES Research Fund
Ms. Brandi's phone number is (857) 218-3129
Should you have any questions, feel free to contact Ms. Campbell at singandplay4kids@gmail.com or (804) 832-2142.
We also have a website: http://singandplay4kids.org/
View More
Sing & Play 4 Kids Challenge benefiting Boston Children's Hospital ESES Research
Raised: $24,527.00
Goal: $1,000,000.00
View More

Team Honor Roll
Anonymous Anonymous
$5,000
Stephen and Judi Goldsmith
$750
Friends of Vino Cruz
$609
Mr. Albert E. Campbell
$250
Andy, Kathy and Clara
$250
Suzanne, Eileen, and Emmett Cohen
Susan and Paul Kurnit
$125
Tasha and Doug Cooper
$100
Stephen & Lori Twelkemeier
Stacey & Andy Goodman
$30
Recent Donors
Anonymous Anonymous
Zachary Hagan
The B Fund
Stephen and Judi Goldsmith
Friends of Vino Cruz