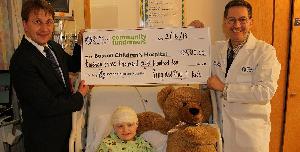 Sing & Play 4 Kids Challenge
TO DONATE NOW: Choose a team from the list on the right side of this page and click on their name to find the GIVE NOW button.
Why we're here? CSWS epilepsy, also referred to as ESES, is an uncommon epilepsy syndrome in which children lose a wide range of developmental abilities, including language, motor skills, memory, and visuospatial skills. In severe cases, the child may lose the ability to both walk and talk. Rarely, Sudden Unexpected Death in Epilepsy (SUDEP) may occur. This syndrome occurs in school-aged children and in many children there is no known cause of epilepsy. When children just lose language skills it is referred to as Landau-Kleffner Syndrome. Early identification and treatment is critical to preserve their neuropsychological development.
Our Goal
We are organizing Sing & Play 4 Kids Challenge to raise public awareness and research funds to help the kind doctors and researchers at Boston Children's Hospital discover causes, cures, and treatments for ESES. Every dollar raised supports ESES research and puts us one step closer to a cure.
How can you help?
We would love your support. Attend an event, make a donation, create a fundraising team, or help us spread the word by taking the Sing & Play 4 Kids Challenge benefiting Boston Children's Hospital ESES Research Fund! Thank you in advance for your kind participation! It means the world to us!
ACCEPT THE CHALLENGE!
Time is of the essence if we are going to save our children's development! Take the challenge today to give our kids a chance! It is easy as 1, 2, 3!
1) Take a photo or video of you singing for the kids and and/or playing your favorite instrument. You can also create a kind video message wishing the kids well;
2) Donate on this website, by phone, or by mail to Boston Children's Hospital Trust ESES Research Fund.
3) Share your photo/video on social media using hashtags #SingandPlay4Kids and#ESESResearch. Tag 3 (or more!) friends to accept the challenge, post your photo/video and tag others to join within 24 hours. That's it!
Make check donations payable to Boston Children's Hospital Trust and mail to:
Boston Children's Hospital Trust/ESES Research Fund
Community Fundraisers
Attn: Jessica Brandi
401 Park Drive, Suite 602
Boston, MA 02215 (Please write Sing and Play 4 Kids on both the check and envelope!)
Donations by Phone: (857) 218-3129
Questions can be directed to the organizer, Ms. Vinez Campbell. Her contact information can be found on the website singandplay4kids.org.
View More
Sing & Play 4 Kids Challenge
Raised: $0.00
Goal: $20,000.00
<
View More